Explore The Ethics Of Artificial Intelligence (AI) 
May 4, 2023
Monica
Blockchain Enthusiast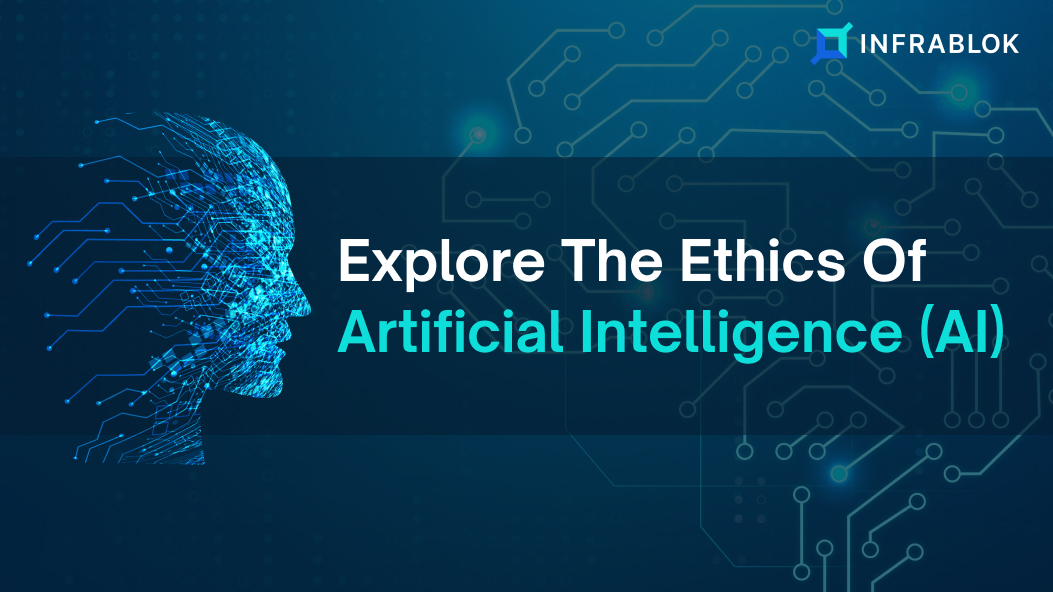 AI has emerged as one of the most metamorphic technologies of the 21st century. From self-driving cars and virtual assistants to advanced medical diagnosis and precision agriculture, it has the potential to revolutionize many facets of our lives.  
However, with this potential comes ethical challenges that must be addressed. The ethical considerations in the field of AI are complex and multifaceted. So, it requires careful consideration and analysis to ensure that these systems are developed and employed in a responsible and ethical manner.  
Some of the ethical considerations that must be kept in mind while designing an AI-based system are –    
Bias & Discrimination
Artificial Intelligence systems are only as unbiased as the data they are trained on. An AI system can be biased or incomplete if the data it uses is biased or incomplete. Resulting in unfair treatment.
For example, if a facial recognition algorithm is acquainted with a dataset that is predominantly made up of lighter-skinned individuals. It may be difficult for AI to accurately identify individuals with darker skin tones. Resulting in a bias in law enforcement or other applications.
Moreover, in the case of predictive policing, there is a risk that these systems may unfairly target certain communities based on past patterns of policing. Leading to further bias and discrimination.
Privacy & Security
AI systems can raise questions about privacy and security. If it's used to collect & analyze personal data. There is a risk that this data may be vulnerable to hacking or that it may be used in ways that violate individuals' privacy. Leading to unintended consequences.
For example, facial recognition technology can be employed to identify individuals in public spaces, raising concerns about surveillance and privacy. It's important to ensure that AI systems are designed and used in a way that respects individual privacy rights and data protection laws. 
Transparency & Accountability
If AI systems make decisions that affect individuals or society, it's vital to ensure that the decision-making process is transparent & explainable. As AI systems become more complex & autonomous and start making decisions without human intervention, questions arise about who is accountable for the outcomes of those decisions.
It's essential to establish clear lines of responsibility and accountability for AI systems, especially when their decisions affect individuals or society as a whole. A lack of this transparency and accountability can lead to potential risks and harm.
For example, if an autonomous vehicle causes an accident, it's important to establish who is responsible for that outcome.
Control And Autonomy
As AI systems become more sophisticated, questions arise about who has control over these systems and how they make decisions. Increasing the autonomy of AI systems may lead them to make judgments that are at odds with human values.

For example, in the case of the self-driving car developed by Uber, there were questions about who was responsible for the accident and whether the autonomous car had too much control over the decision-making process. 
Human Dignity
If AI systems are used to replace human decision-making or judgment. As a consequence, human dignity and autonomy may be devalued or undermined.
For e.g., in the case of AI-powered chatbots or virtual assistants, there is a risk that these systems may be used to replace human customer service representatives. Leading to a potential loss of human connection and empathy.
Environmental Impact
AI systems can also have an impact on the environment. The development and use of these systems can require vast amounts of energy & resources, which can have negative environmental consequences.  
For e.g., the training and operation of large AI models can require significant amounts of energy. Leading to increased carbon emissions and adverse environmental impacts.
Human Oversight And Control
As AI systems become more refined and autonomous, it's important to maintain human oversight and control over these systems. In this way, these systems are aligned with human values & intentions and do not act in ways that harm humanity.
For example: If an AI system is to make decisions about medical treatment, there must be appropriate human oversight. To ensure the decisions are aligned with the patient's values and preferences.
To design or develop an effective AI system, it is crucial to consider its ethical implications, to truly deliver quality outcomes. Navigating AI ethical challenges can be difficult; getting help and advice from skilled AI engineers can make it much easier.
Future Of AI Despite Ethical Challenges
The future of AI is exciting and challenging. On one hand, AI has the potential to revolutionize many facets of our lives, from healthcare to transportation to education. On the other hand, challenges must be addressed to ensure that AI is developed & deployed in a responsible and ethical manner.
Despite the challenges, there is a strong rationale to be optimistic about the future of AI as researchers and policymakers work to address these issues and ensure that AI is used effectively ahead. 
Additionally, AI can automate tedious and repetitive tasks, improve decision-making processes, and provide personalized solutions in various industries. If AI technology continues to evolve, it could completely transform the way we live and operate. 
All in all, the future of AI is promising. But it will require continued investment, research, & development to ensure the advantages of AI are maximized while minimizing its risks & challenges.
Conclusion
The ethics of AI is a crucial issue that must be addressed as AI technologies continue to evolve and transform our world. As we navigate the complex landscape of AI development and deployment, it is important to prioritize ethical concerns.
At Infrablok, we are committed to promoting the ethical use of AI and ML through our cutting-edge services and solutions. Our team of experts is dedicated to developing AI and ML systems that prioritize transparency, accountability, and fairness. 
If you are curious about availing of any of our AI/ML services, reach out to us to learn more about how we can assist you in leveraging this transformative technology to achieve your business goals.